Founded in 1962, BOSCH is the UK market leader in domestic boilers.
Extremely quiet air / water heat pump
Future proof – work hardest when electricity prices are lowest
The inverter controller adapts to the building's heating
Patented defrost ensures the operation and saves energy
?
Air to Water Heat pumps
Air to Water Heat Pumps are renewable energy products which extract heat from the air to heat your home and produce your domestic hot water.
BOSCH Air to Water Heat Pumps are one of the most efficient and effective ways of heating your home and hot water.
This technology will enable you to reduce your home heating costs, while being environmentally friendly.
Discover the Difference Between Bosch Domestic and Commercial Heat Pumps
Are you seeking the perfect heating and cooling solution for your space but wondering what sets Bosch domestic and commercial heat pumps apart? Look no further! At Energy Superstore, we've got you covered with a comprehensive breakdown of the key differences between these two remarkable options.
Bosch Domestic Heat Pumps: Redefining Residential Comfort
When it comes to creating a cozy haven for your family, Bosch domestic heat pumps take center stage. Designed with homeowners in mind, these compact and energy-efficient wonders offer seamless integration into any residential setting. With their user-friendly controls and whisper-quiet operation, they provide an unparalleled level of comfort while maintaining a harmonious environment.
Unmatched Efficiency and Sustainability
Experience the future of sustainable living with Bosch domestic heat pumps. Equipped with cutting-edge technologies, these residential powerhouses maximize energy efficiency, helping you reduce your carbon footprint while saving on utility bills. Say goodbye to conventional heating and cooling systems and embrace an eco-friendly solution tailored to your home.
Bosch Commercial Heat Pumps: Empowering Businesses with Unrivaled Performance
When it comes to meeting the demands of large-scale commercial spaces, Bosch commercial heat pumps rise to the occasion. Engineered for superior capacity and robust performance, these workhorses efficiently cater to the complex heating and cooling needs of offices, hotels, factories, and warehouses.
Precision Engineering for Commercial Excellence
The ingenuity of Bosch's commercial heat pumps lies in their precision engineering and customized controls. Achieve optimal indoor climate control as these units adapt seamlessly to your commercial building, ensuring a comfortable environment for employees and customers alike. With a focus on enhanced performance and reliability, Bosch commercial heat pumps set the standard for excellence in the corporate world.
Making the Right Choice for You
At Energy Superstore, we understand that selecting the ideal heat pump is crucial for your comfort and peace of mind. Whether you're in the market for a domestic or commercial solution, our team of experts is here to guide you every step of the way. From personalized consultations to seamless installations, we're committed to tailoring the perfect climate control solution to fit your unique needs.
Embrace the Future of Heating and Cooling
Explore the realm of Bosch domestic and commercial heat pumps and take your comfort to new heights. Join the green revolution with sustainable living or empower your business with unparalleled performance – the choice is yours.
Contact Energy Superstore today to learn more about Bosch heat pumps and how they can transform your space into the epitome of comfort and efficiency. Unleash the power of innovation and experience the joy of true climate control.
Domestic Heat Pumps
Our innovative heat pump systems harness renewable energy sources to provide efficient and sustainable heating and cooling solutions for residential properties. By transferring heat from the air, ground, or water, these systems offer year-round comfort while significantly reducing energy consumption and carbon emissions.
With high energy efficiency, versatile applications, and the potential for lower energy costs, our domestic heat pumps pave the way for a greener and more sustainable future. Join us in creating a comfortable home environment while making a positive impact on the planet.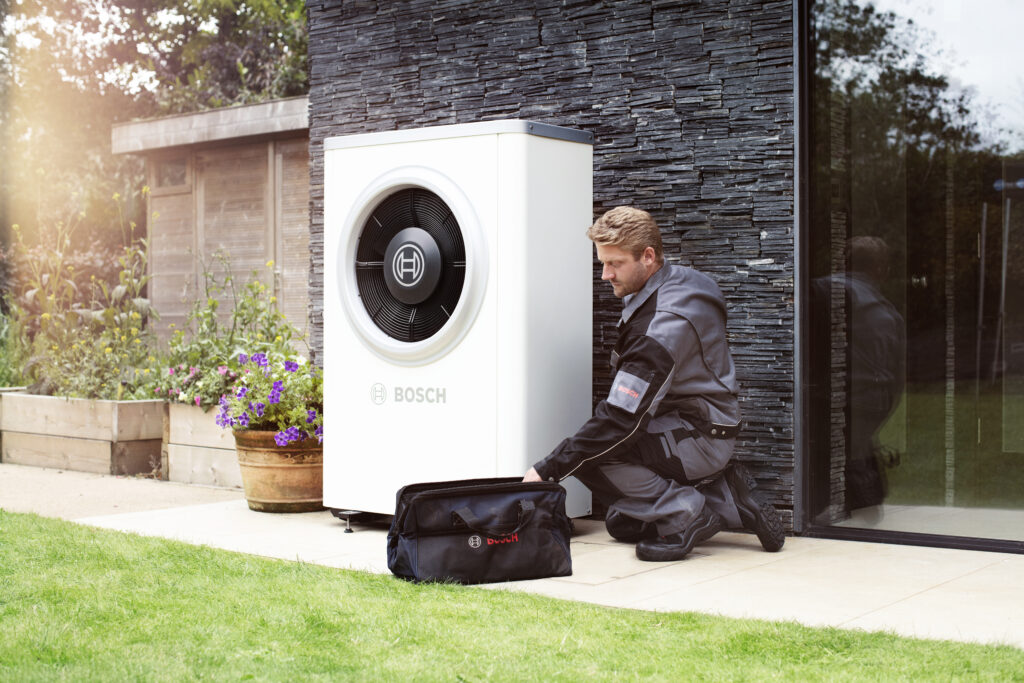 Commercial Heat Pumps
Our advanced heat pump systems are designed to meet the heating and cooling needs of commercial and industrial buildings, providing efficient and sustainable solutions.
By harnessing renewable energy sources such as air, ground, or water, our commercial heat pumps transfer heat effectively, ensuring optimal indoor comfort throughout the year while significantly reducing energy consumption and carbon emissions.
With their high energy efficiency, versatile applications, and potential for cost savings, our commercial heat pumps offer businesses the opportunity to enhance their environmental sustainability while maintaining a comfortable and productive workspace.
Join us in embracing renewable energy solutions for a greener and more efficient commercial future.
Click to view Domestic Heat Pumps..
Click to view Commercial Heat Pumps..